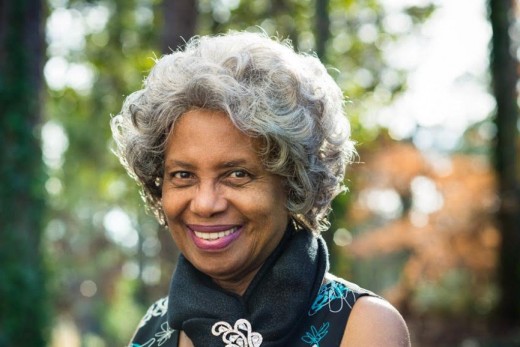 Bill: We are visiting with MsDora this week from the Caribbean island of St. Kitts. Thank you for joining us MsDora. I believe you joined the Fast around June of 2013, and I thank you for standing with us. God is doing some great things in America, but I still see the nation as being spiritually cold. What kind of spiritual temperature do you see in St. Kitts?
MsDora: Thank you, Pastor Bill for extending the invitation for me to participate in The Great American Fast. Praying and fasting with an international group of believers helps me sense the power of Christian unity. Plus, being a naturalized United States citizen, and having lived in America for most of my life, I share the spiritual burden for this great country.

My native island St. Kitts is one of a two-island federation (St. Kitts-Nevis) with an estimated population of 51,000. The last religious data census (2012) reported that 94.62% of our people are Christians with very few being Agnostic, Hindu, Spiritist, Bahai, and others in descending order. With the migration of Indians and Chinese over the past four years, there might be a slight percentage change, but Christianity remains the primary influence. Although old values seem to be losing ground and our youth have been introduced to the gang and drug cultures, most of the protestant churches evangelize enthusiastically for the salvation of souls.
Bill: I first met you through an online writing website called HubPages. First, let me include the link to your page so our readers can find you – http://hubpages.com/@msdora. Your writings are always so practical and easy to relate to. Can you give us some practical advice to help us seek God better and grow our spiritual lives?
MsDora: Thanks for including the link. My advice for spiritual growth is fellowship with God. Relationship is good, but it is fellowship that makes it work. Example, a couple in a marriage relationship may not communicate all day; they still have the relationship, but they miss out on the hugging and kissing which makes it sweet. To grow spiritually, believers need more than a morning and evening talk with God. We need regular dialogue about small things, big things, earthly things, heavenly things, all things throughout the day. We need to be intimate with Him as often as possible.
Bill: You have also authored and/or contributed to some books, especially devotionals. How did you get started in that work?
MsDora: My first compilation of articles was a collection of weekly reports which I wrote for my college Sabbath School. I modeled many of my presentations after Bible parables or familiar passages of Scripture (a skill I learned in my home church) and I often received requests for copies. Later, I did workshops for women and families, and I also received requests to write what I was saying. Then, my church commissioned me to write the text for the Purity Circle program which I initiated. In addition to the workbook, I blogged a weekly Monday Manna to keep the focus of participants on purity, and those devotionals were compiled and published. I continue to write with a prayer to be always a pen in God's hands.

Bill: Let me switch gears and learn a little bit more about Christianity in St. Kitts. Can you give us an idea of the denominational makeup on your island?
MsDora: Of all the 17th-century settlers who claimed St.Kitts during its early colonization years, the British influence is the most visible in the form of its Anglican churches. They are the largest religious group, followed by the Methodists which are also of British origin. Pentecostals, Church of God, Moravians (also British), Baptists, Seventh-day Adventists, Evangelicals, and Brethren Christians add to the number of protestant churches. Catholic churches are also present, divided into four parishes, thanks to the Irish and Portuguese immigrants. The Rastafari Movement is expanding. Jehovah's Witnesses, Muslims and Hinduism, the Bahai Faith and the Salvation Army together make up about 2% of the population (according to an old census). With more immigrants entering our federation every year, the challenge is for Christians is to keep the flock focused on Christ so that they are not easily distracted by new trends and traditions which are un-Christlike.

Bill: Without getting too personal, can you share an incident when God was especially close to you and walked you through a tough situation?
MsDora: One recent tough situation was caring for my mother, an Alzheimer's victim. I was not prepared for the confusing, depressing, humiliating, faith-testing, experience that it was. When my mother needed twenty-hour care, I became a shut-in myself. Neither friends nor family understood the weight of my burden; still, I was determined to be the best caregiver my mother could have. God anchored me with His promise in Deuteronomy 33:27, "The eternal God is your refuge, and underneath are the everlasting arms." I snuggled into His bosom with much prayer and meditation, knowing that no matter how heavy the burden became, those arms would keep me from falling to the ground. They provided spiritual, physical and emotional comfort. His grace proved sufficient.
Bill: What is God teaching you about Himself?

MsDora: At my church, we are studying the Book of Job. God is teaching me to accept the fact that He alone is Omniscient, and that my knowledge of Him and His ways are limited. I am learning that my responsibility is not to understand Him but to trust Him. I am also learning that when people are suffering, God needs me not to analyze and evaluate them, but to represent Christ by demonstrating the fruit of His Spirit to them. He is teaching me to cultivate that fruit.

Bill: We're just about out of time. Thanks so much for spending some time with us here at TGAF. Before you go, is there something you can leave with our readers to help us stay focused on the thing that really matters – Him?

MsDora: Your question brings to mind a Scripture verse which I often
quote to keep me focused. Hope it helps: "I'm not saying that I have this all together, that I have it made. But I am well on my way, reaching out for Christ, who has so wondrously reached out for me. Friends, don't get me wrong: By no means do I count myself an expert in all of this, but I've got my eye on the goal, where God is beckoning us onward—to Jesus. I'm off and running, and I'm not turning back." (Philippians 3:14 The Message)