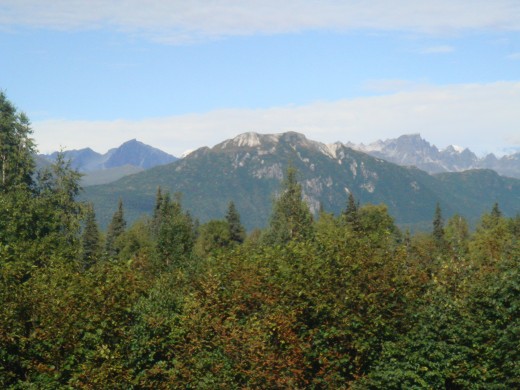 Have you ever noticed that for every mountain there is a valley? If it were not for the valley there would be no mountain. I was reminded today of a verse that declares God to be the God of the mountain as well as the God of the valley. Unfortunately, I could not remember the reference.
I have been living on the mountaintop for a while now and God has been blessing me tremendously. A while back, I was able to view Mt. McKinley, the tallest peak in North America at 20,320 feet. That's nearly four miles high and sometimes I feel like I am at the top. I have also read of the Marianas Trench, an undersea valley that plunges seven miles beneath the floor of the Pacific Ocean. Eleven miles are represented from the mountaintop to the valley depth. Even though I am at the top today, the plunge is inevitable.
The Christian life is made up of both highs and lows, but the same God rules over all. I can praise Him for the heights He allows me to see. I can praise Him in times of trials as well. The constant is that He is God and worthy to be praised.
Hebrews 11:6 says that without faith it is impossible to please God. Faith is developed in the valley. If there were no trials and no difficulties in life, there would be no need for faith. It is in the valleys that we grow as Christians. It is in the valleys that we learn to trust and depend on God. What we learn in the valley can be carried to the mountaintop.
No matter how spiritually high you are today, realize you can always go one step higher. We can always draw closer to God any time we choose. Realize though, that there will always be valleys from time to time. There were times in the life of Job when God seemed far away. "Behold, I go forward, but he is not there; and backward, but I cannot perceive him: On the left hand, where he doth work, but I cannot behold him: he hideth himself on the right hand, that I cannot see him." (Job 23:8, 9). No doubt there will be times in your life when you wonder where God is, but He is still there.
Job 23:10 gives us the rest of the story. "But he knoweth the way that I take: when he hath tried me, I shall come forth as gold." Another reason to praise God in the valley is that He is refining His gold – you. As we patiently and prayerfully go through the valley, He will bring us once again to the mountaintop. The more we understand our God, the more we can trust Him in both the valleys and mountaintops. Remember, He is the God of both.